Technology
Innovation of the
Daily Life,
Leading to a new future.
Coway's unique & innovative technology
Using data accumulated over 30 years by experts with knowledge and know-how in each field,
efforts to consider both the environment and customer convenience combine to create Coway's unique, innovative technology.
Speciality
Expertise in each sector of environmental home appliances and
rigorous standards within Coway are leading to innovation in product development.
The world's
leading water expert

Expert research to produce the best water is
performed by CWS specialists, who have passed
comprehensive tests on water covering its basic
ingredients, its chemistry, water treatment techniques,
and filtering, and by water sommeliers, who specialize
in water taste and quality.

Technical researchers
who analyze air quality

To maintain optimal air quality at all time, our
researchers analyze and study the complex and
diverse air quality of each season, environment,
and space through IAQ experiments.

Professional researchers
responsible for life care

These researchers analyze and study data including
sleeping patterns, health index analyses, and care service
records. to maintain optimal conditions for life, such as
an optimal environment and the prevention of bacterial
and viral infections, etc.
Big Data
Coway strives for innovation in developing products tailor-made for its customers by analyzing
and researching environment-related big data collected not only in Korea, but also from all around the world.
Customized products

We utilize global environmental
analysis data to develop products.

Development of customized filters

We apply development and replacement cycles
customized to the environment based on
environmental analysis data.

Customized recommendation of services

We make optimal product and service
recommendations through analysis of
customer usage patterns.
Eco
Coway is leading the development of eco-friendly products, services and technologies
that consider the environment throughout the entire process for its products and services.
01
Chemical and quality management
For product safety certification, we are seeking operation of authorized laboratories and the diversification of testing institutions,
allowing us to actively review the quality, safety and environmental impact of our products. In addition, we are continuously
researching ways to reduce chemical risk to zero through the establishment of a chemical management system.
Product Development
Process

Chemical stability of products and parts

Clean
Production

Energy efficiency CO2 emissions

Rental
Service

Improvements to living environments

Recovery and recycling
processes

Decrease resource use Increase recyclability
02
Environmentally friendly
waterless test system
Traditionally water is used to test water purifiers for leaks or a vacuum, but waterless testing uses nitrogen and a vacuum instead of water to improve the quality of completeness test for products and minimize the test time and the amount of water thrown away for tests.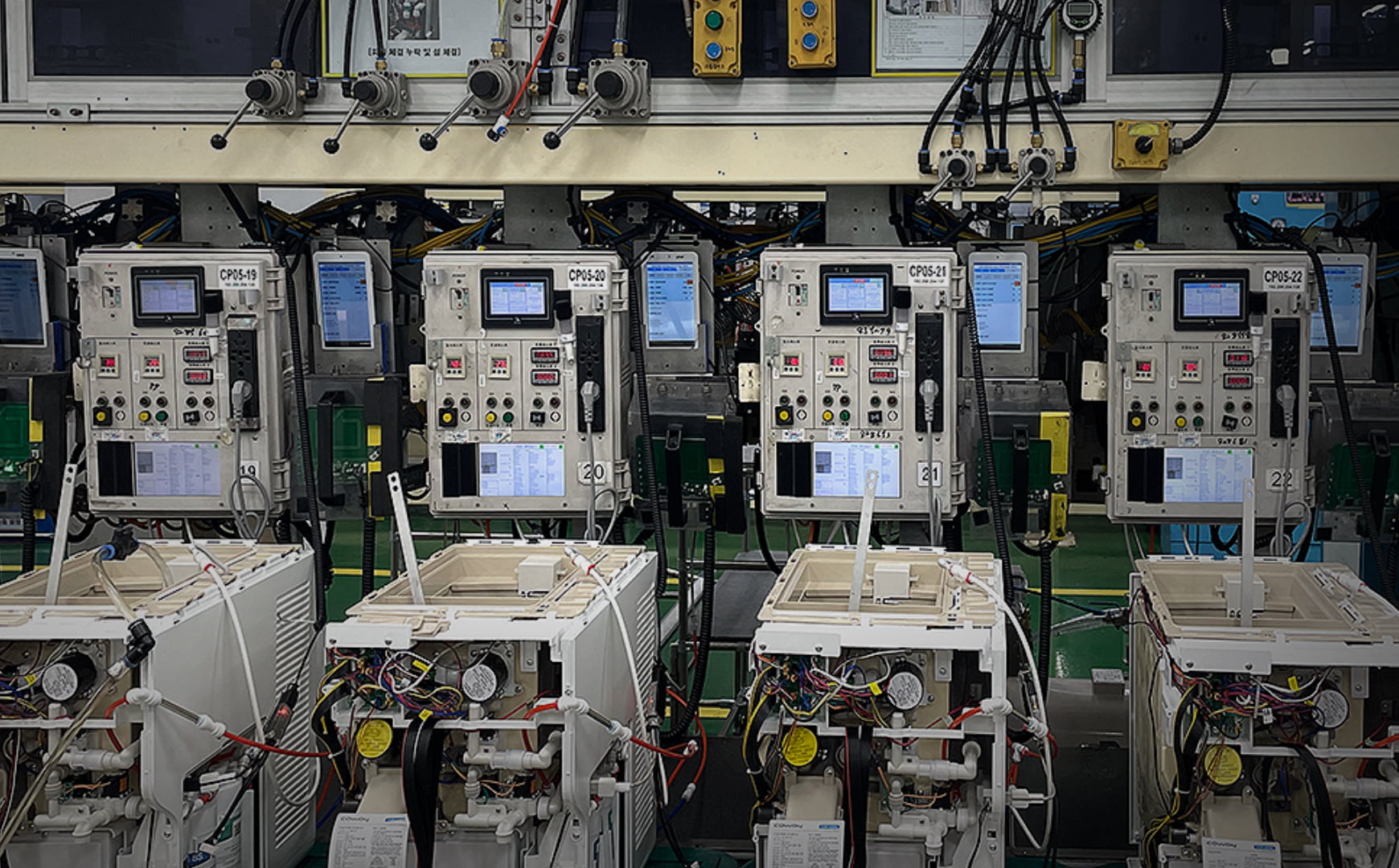 03
Use of eco-friendly packaging materials
We are considering renewable materials that can reduce or replace the use of EPS packaging materials, which are used once and then thrown away. We are expanding our scope of development to be more eco-friendly by changing the form of packaging depending on the product in order to reduce the use of EPS(expanded polystyrene) packaging or by using corrugated cushions made of 100% eco-friendly paper.
IoT
Through big data analysis and AI technology,
Coway's research enables customers to meet in and experience more diverse spaces in their everyday lives.
Providing customized solutions

We check lifestyle patterns and the usage information
of each product to provide optimal and customized
solutions for each member of your family as well as
yourself.

Self-management on its own

Our product analyzes its own status and issues,
provides audio guidance to customers and
autonomously manages itself.

Smart control

We check and remotely control the product's
condition whenever and wherever the customer
wants.
INTERNET OF THINGS