STORY
[IFA 2022] A Closer Look Into Coway's IFA Exhibition
2022.09.06
Coway, "The Best Life Solution Company", has successfully wrapped up its exhibition at IFA 2022
Coway returned to IFA 2022 for the first time since 2019, as Europe's largest consumer electronics and home appliances trade show returned to in-person events this year in Berlin, Germany, September 2 - 6.

Coway showcased its next lineup of home health appliances for the European market with a total of 22 home health appliances with two new Coway Airmega purifiers, ready to roll out in Europe by the fourth quarter of 2022.

Coway Newsroom shares a closer look into products that visitors showed a high interest in at the Coway's IFA Exhibition.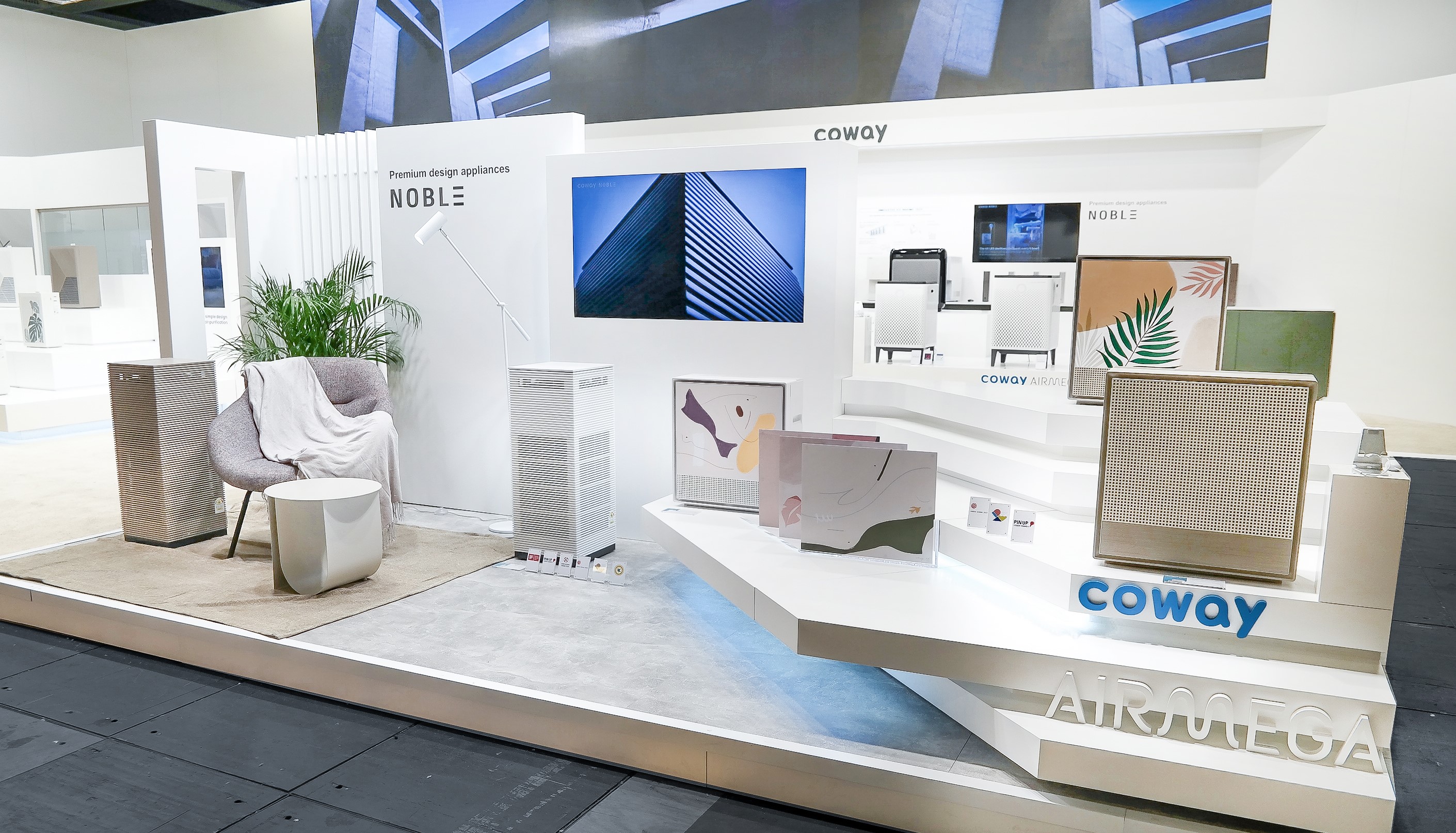 ▲The highlight zone features Noble Air Purifier (Left), Airmega 250 Art (Center), Airmega 250 (Right)

Airmega 250 (Right) combines the filtration coverage performance of a large air purifier, yet has a minimalist, compact design. In addition, the Airmega 250 offers automated functions, which adjust the fan speed automatically according to the room's air quality and surroundings. Its design has earned international accolades from the Red Dot Design Award 2021, the International Design Excellence Awards (IDEA) 2021, Good Design Award 2021, and as well as Pin Up Awards.

Airmega 250 Art (Center) further gives users the possibility to explore more iconic designs and find a look that fits a variety of tastes with an innovative magnetic front cover.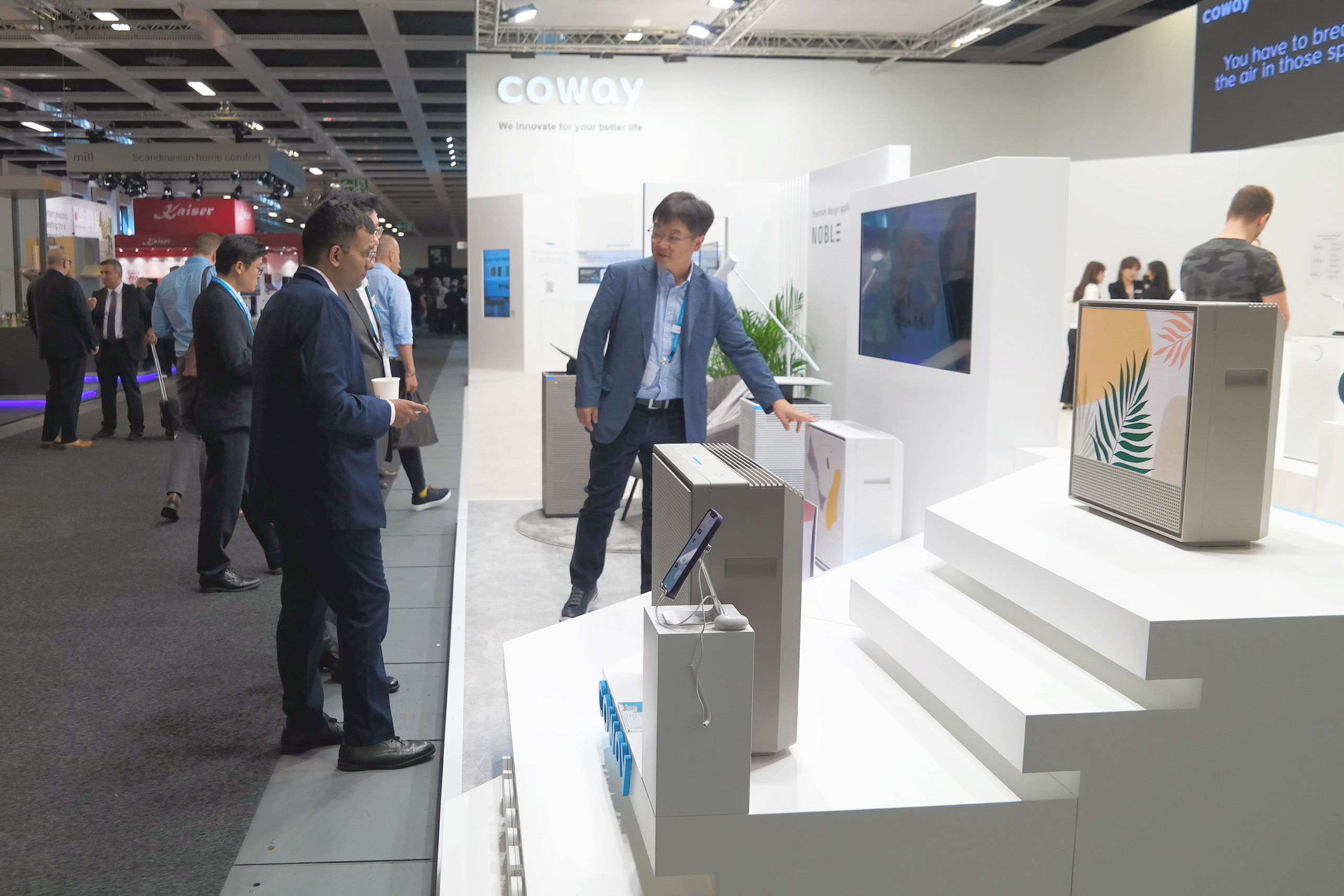 ▲ Visitors are learning about the Airmega 250 Art whose innovative magnetic front cover can be replaced with other iconic designs that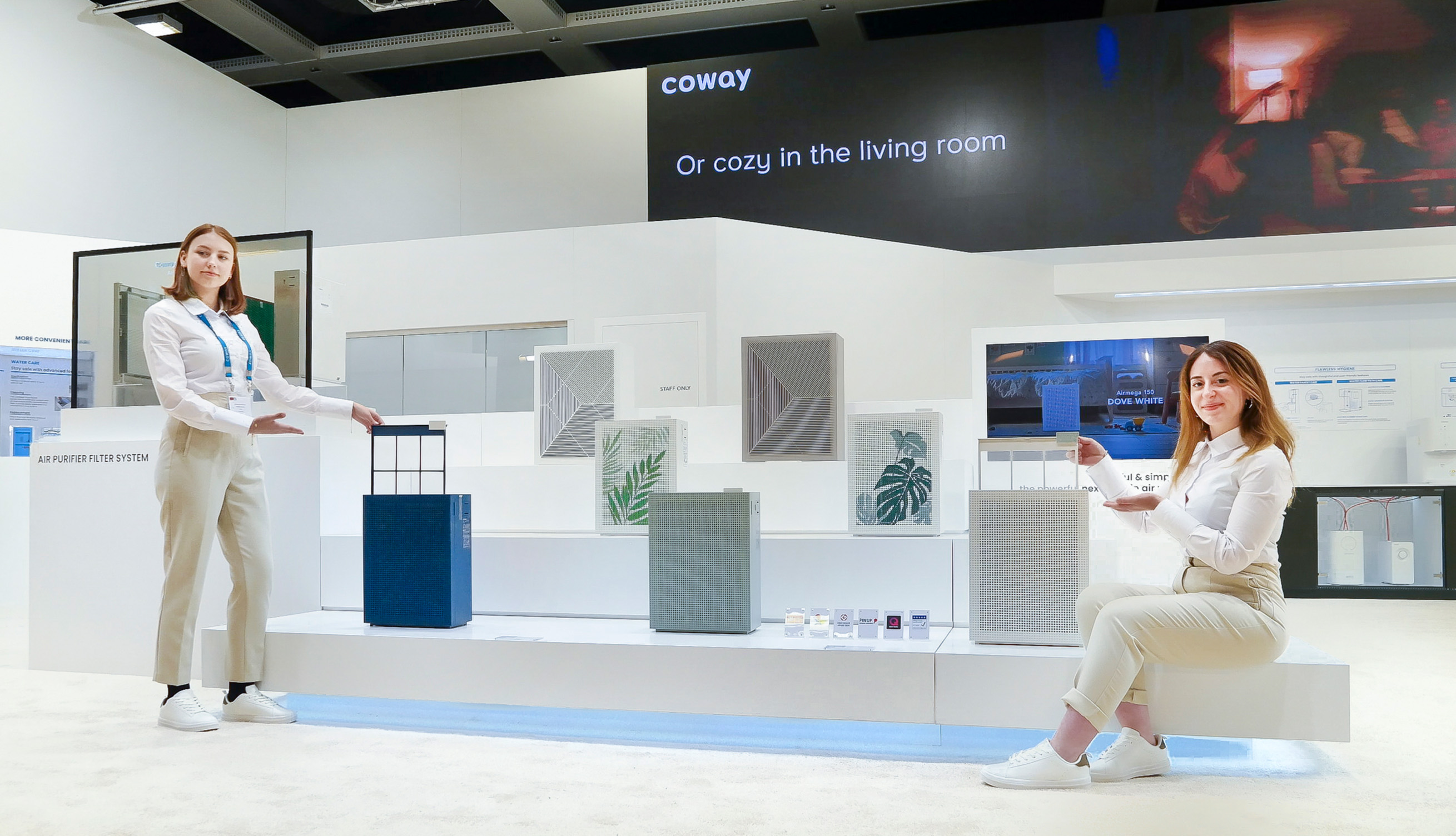 ▲ The exhibition prompters are showcasing the CES-exhibited Airmega 150 (Front, Middle) and Airmega 240 (Back).

Airmega 150 is a simple, clean, and compact air purifier that features powerful three-stage filtration, combining a pre-filter, activated carbon filter, and a Green HEPA™ filter to reduce contamination in the air. Its sleek design has won three awards from the world's most prestigious design awards – iF Design Award (Germany), Good Design Award (Japan), and IDEA Award (USA). The air purifier includes filter change indicators, easy-to-pull filters, automatic speed control based on particles in the air, and an intuitive air quality indicator with a light that can be turned on or off.

With the minimal design of Airmega 150, Airmega 240 boasts a more powerful performance. Its front design accentuates the home interior with geometric patterns.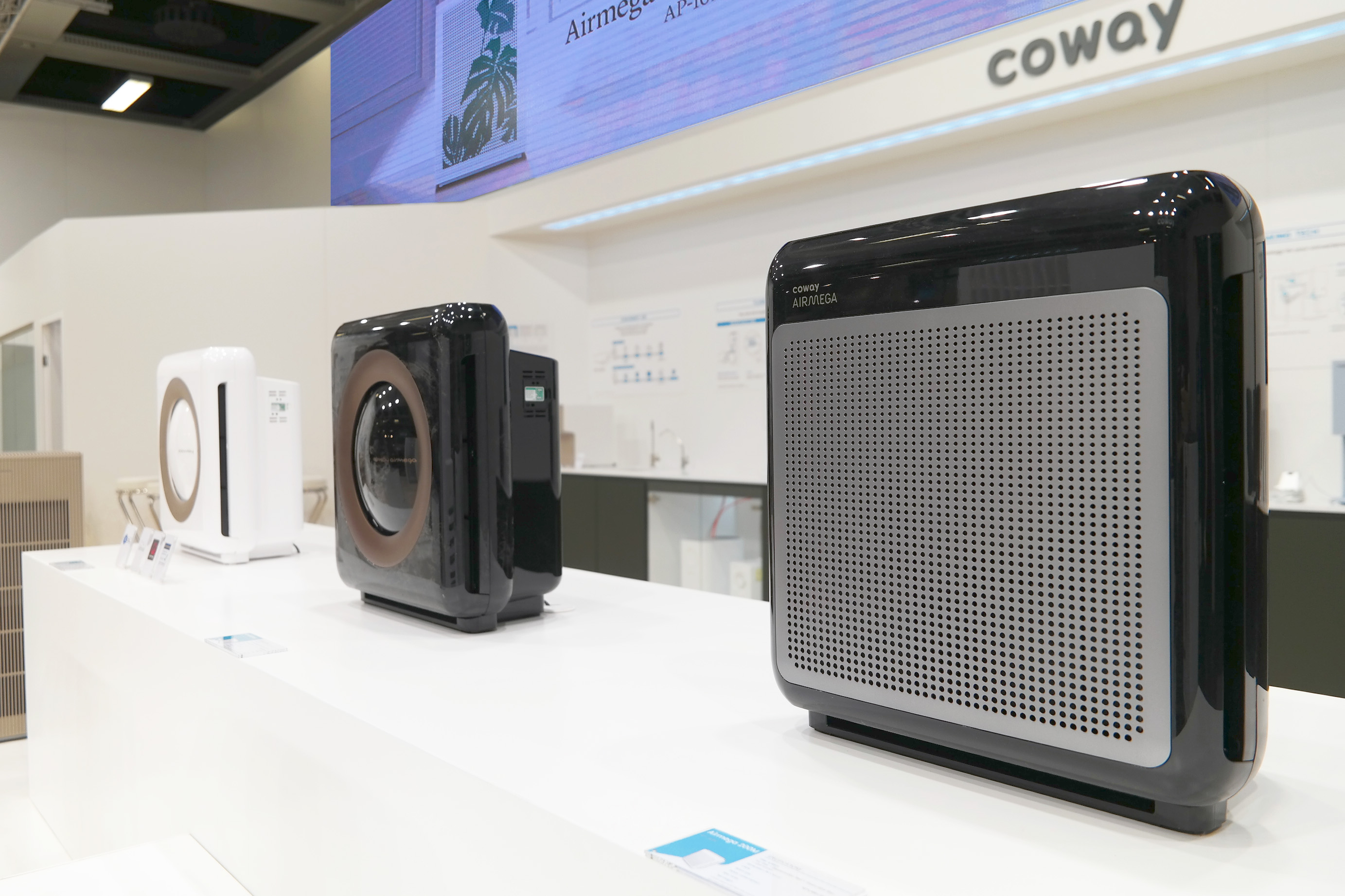 ▲ The exhibition presents Coway's most-loved Airmega Mighty (Left, Center) and Airmega 200M (Right).

Airmega Mighty (AP-1512HH) has been the New York Times Wirecutter's top pick for eight consecutive years, including 2022, and is an Amazon USA best seller in the air purifier category. The powerful air purifier is suitable for rooms up to 33m2, including bedrooms, living rooms, and small enterprises. It has obtained the ECARF Seal of Quality for fully adapting to the needs of allergy sufferers.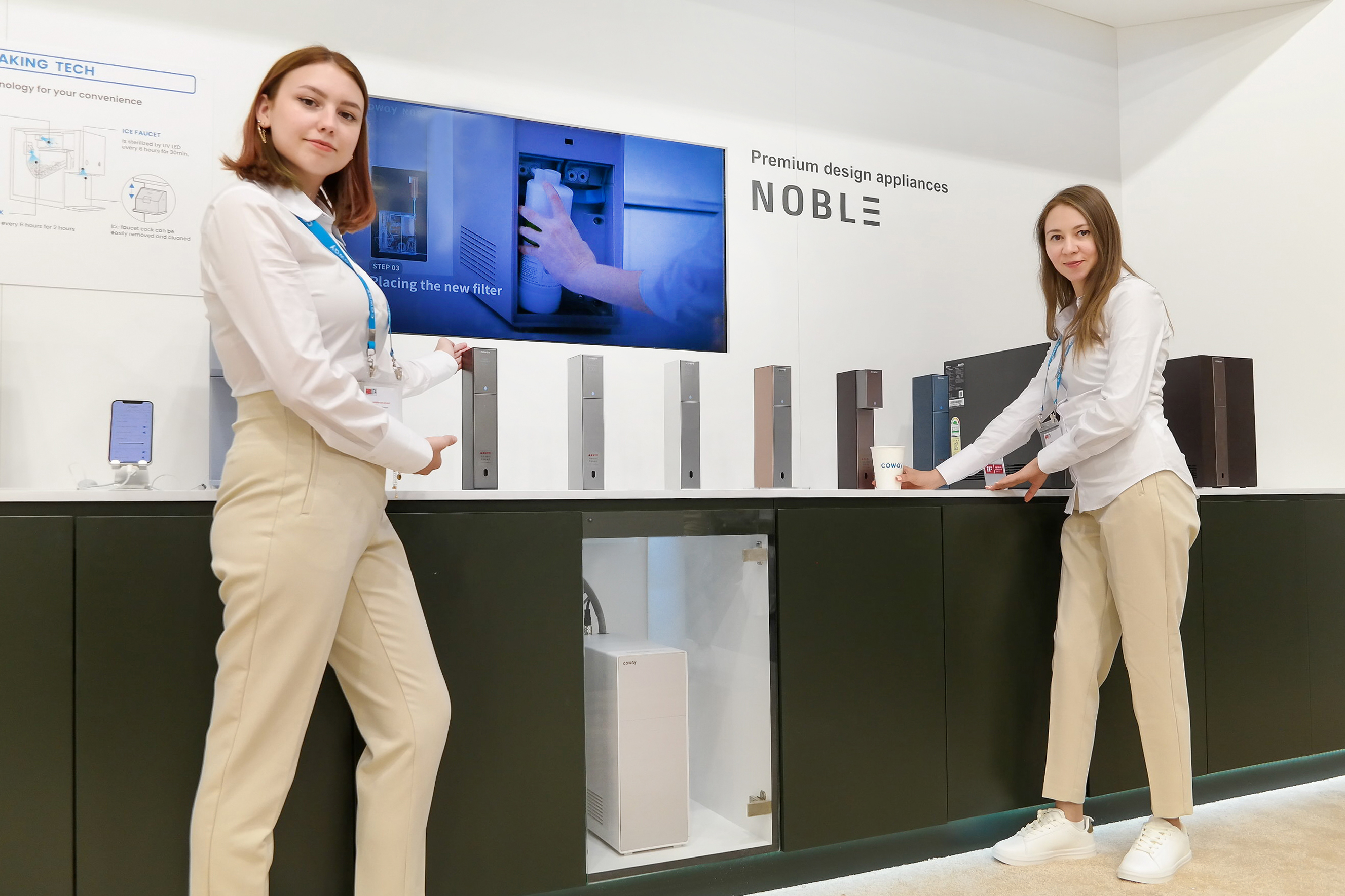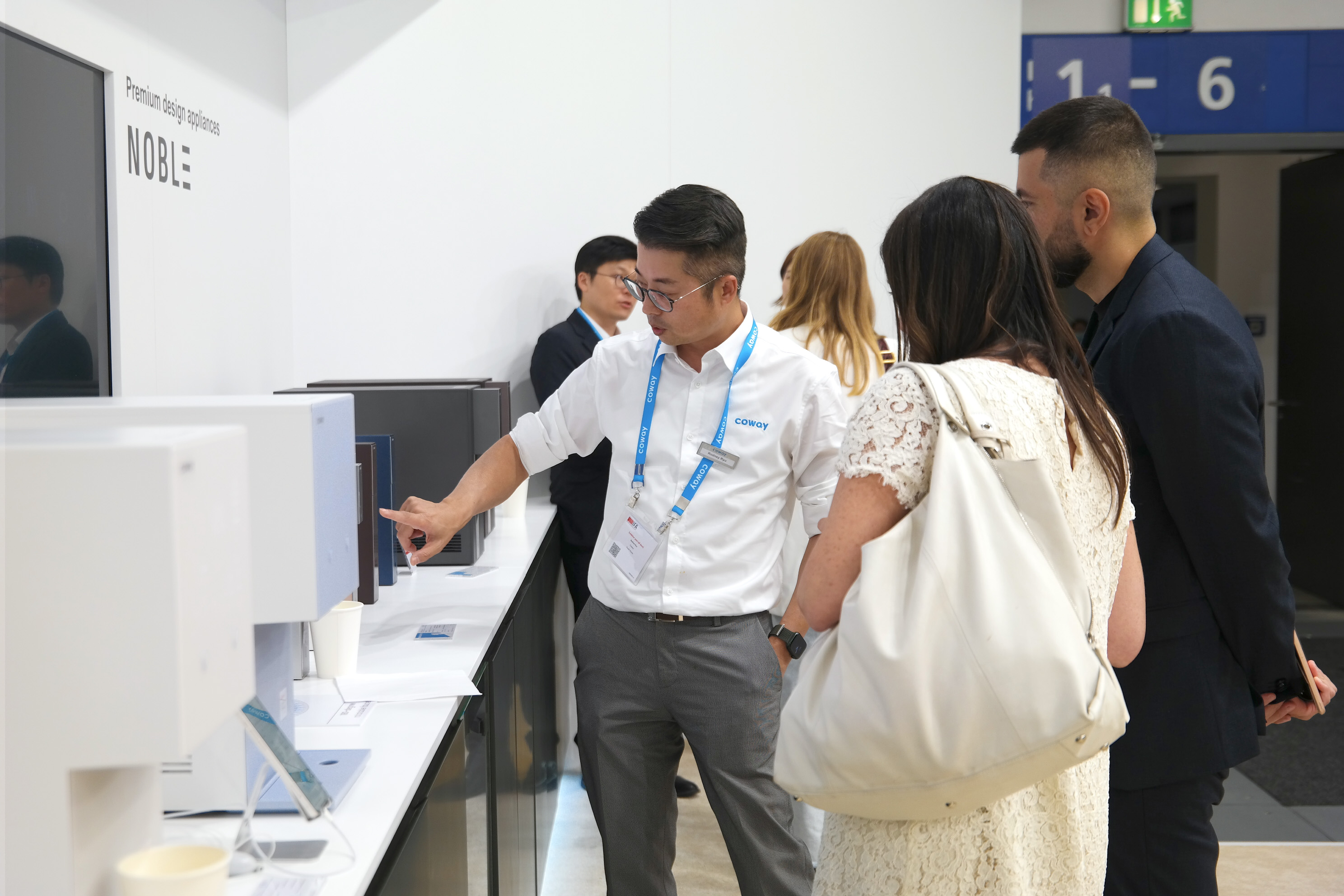 ▲ A Coway official is presenting Coway's Icon Water Purifier Series (Front) and Noble Water Purifier Series (Back).