PRESS RELEASE
Coway's Award-Winning Air Purifiers Now in Germany
2021.04.21
- Coway launches Wirecutter's 'Best Air Purifier' and Testfakta's 'Europe's Best Air Purifier' Airmega Air Purifier in Germany
- Five select air purifiers are now available to purchase through Amazon Germany
---
SEOUL, South Korea, Apr. 21, 2021
– Leading environmental home appliances company, Coway has announced its innovative air purifiers are now available in Germany through Amazon. Consumers can also explore Coway products through its new dedicated
German website
(de.coway.com).
A high-quality air purifier is now a must-have home item. After spending more time indoors, people have realized better indoor air quality leads to a higher quality of life. More and more people are looking for air purifiers that are effective, efficient, and also aesthetic.
Coway is launching five select award-winning air purifiers from the Coway Airmega lineup. These are the Airmega 150, Airmega 300S, Airmega Jet, Airmega Mighty (Also well-known as the AP-1512HH), and Airmega Hue&Healing (Humidifying air purifier model). Each product boasts the highest quality standards and fits seamlessly with consumers' unique lifestyles and varying needs. They cover spaces of all sizes and improve air quality to reduce allergy symptoms, create a more pleasant home office environment, and allow for a better night's sleep.
Coway Airmega air purifiers feature innovative technology that is ideal for those looking to reduce allergens. The industry-leading advanced filtration system removes up to 99.999% of fine particles from air down to nano-sized particles as fine as 0.01 microns[1] which are smaller than bacteria and viruses.
The core of the filtration is consisted of the washable pre-filter to filter large dust and hair, the active carbon filter to remove bad smells and VOCs(volatile organic compound), and the HEPA filter to remove the extra fine particles like dust, allergen, bacteria, mold, virus and more. For the European market, Coway is certified by the European Centre for Allergy Research Foundation (ECARF) for sensitive allergy control.
One innovative feature applied to the HEPA is the GreenHEPA™ Technology which is double-safe protection from viruses and bacteria. This is applied to the HEPA filter and has undergone external laboratory testing specifically for viruses, bacteria, mold, and pollen. This technology ensures the HEPA filter effectively captures up to 99.99% of the virus
[2]
, bacteria, mold, and pollen[3] from the air and also prevents the captured particles from growing any further making them neutralized[4] for consumer safety.
All Coway Airmega air purifiers show current air quality via an indicator and are equipped with a smart auto mode that detects the surrounding air quality and adjusts the fan speed accordingly.
One of the most desirable points of Coway Airmega air purifiers is their design. The sleek form of Coway Airmega blends seamlessly into even the most minimalist home and space.
The iconic Airmega 150 model is a triple design award winner from Good Design Award, iF Design Award, and the IDEA Award. The Airmega 150 has a sleek, modern design and comes in 3 stunning colors of Dove White, Saige Green, and Peony Pink.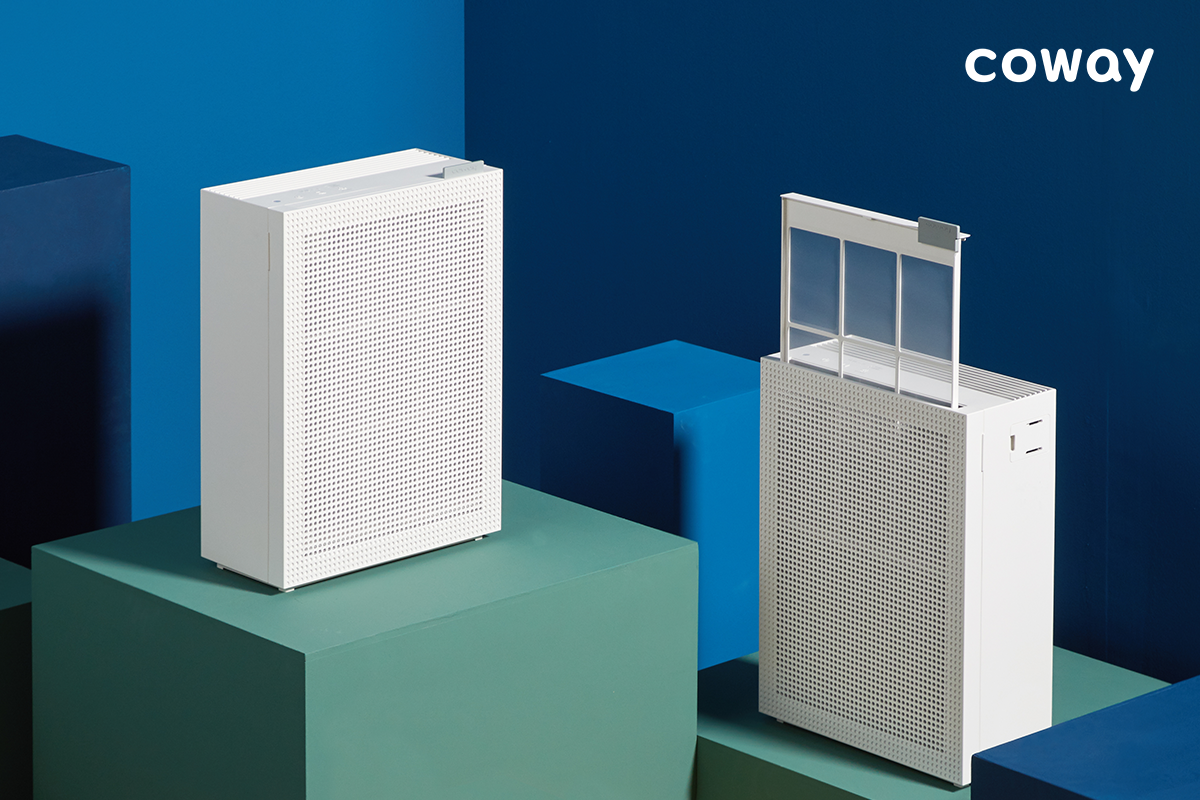 Coway Airmega 150
Coway Airmega 300S is another design awarded model and also the most powerful air purifier out of Coway's 5 launching products. The 300S is a unique model with a strong dual suction power and delivers CADR(Clean air delivery rate) of 575 m³/h covering large spacious spaces up to 149 m². The 300S is compatible with Google, Amazon devices and also with Coway's mobile app(IoCare App) for Wi-Fi remote control and filter alerts.
Coway Airmega Jet was named
"Europe's Best Air Purifier"
in December 2020 by Testfakta, a prestigious Swedish international product testing laboratory. The Airmega Jet went through extensive testing with 13 air purifiers to prove its quality and performance. Its unique MegaJet™ technology supports optimal dynamic airflow. This rare function lets consumers choose whether the clean air comes out from the top or front of the product.
The launch lineup also includes Coway's best-selling Airmega Mighty, also well known as the Coway AP-1512HH in the US. This product received rave reviews in the US and has been named on the New York Times'
Wirecutter's "Best Air Purifier" list
for seven consecutive years from 2015 to 2021. Wirecutter runs its own real-life based product testing with over 45 air purifiers. The Coway Mighty has been awarded as the "Overall Best Pick" since 2015 and has been rated as the "Best-Performing," "Most Durable," and "Most Economical," air purifier.
All five Coway Airmega air purifiers can now be purchased in Germany through Amazon.
Coway, The Best Life Solution Company, brings an air purity solution to Germany.
Dedicated to making life healthier and more comfortable, Coway is South Korea's leading environmental home appliances company renowned for its innovative air and water technology, including award-winning air and water purifiers.
Coway has been the unrivaled market leader in South Korea since being founded in 1989 and successfully expanded to the US and throughout Asia. Its innovative products and aesthetic design continue to receive international recognition. The brand has Asia's largest research and development center for water and air technology. It's dedicated to using this resource to provide clean air and water to people around the world.
"We've had years of success with our products in the Asian and North American markets. We're dedicated to reaching the highest quality standards, and our countless awards confirm that. We would now like to bring these products to European consumers, too," says Jihun Ryu, general manager of Coway's America & Europe Team.
After winning over the USA and Asia, Coway is ready to capture Germany's heart with its high-quality products.
For more information about Coway Airmega air purifiers, visit
de.coway.com
.
[1]
Coway air purifiers have been tested by KCL (Korea Conformity Laboratories) according to the Korea Air Cleaning Association standard(SPS-KACA 002-132:2018) on the particle size of below 0.01㎛ and on maximum fan speed in normal room temperature and humidity conditions. The performance may vary in the actual living environment of customers.
[2]Coway air purifiers have been tested with MERS-Cov by Korea University and resulted 99.99% removal rate. Even though MERS-Cov is one of the coronavirus, Coway has not tested with SARS-Cov-2 so Coway does not claim to capture, remove, or kill SARS-CoV-2.
[3] The removal of 99.9% of viruses, bacteria, fungi/mold, and pollen from the air were verified for GreenHEPA applied Coway air purifiers based on the Japan Food Research Laboratories(JFRL) testing according to JEM 1467 standard.
[4] Influenza A virus (H1N1) and Staphylococcus aureus were proven to be inactivated and stop growing within 24 hours by Japan Food Research Laboratories (JFRL).
---
About Coway Co., Ltd.
Established in Korea in 1989, Coway, "The Best Life Solution Company," is a leading environmental home appliances company making people's lives healthy and comfortable with innovative home appliances such as water purifiers, air purifiers, bidets, and mattresses. Since being founded, Coway has become a leader in the environmental home appliances industry, with intensive research, engineering, development, and customer service. The company has proven dedication to innovation with award-winning products, home health expertise, unrivaled market share, customer satisfaction, and brand recognition. Coway continues to innovate by diversifying product lines and accelerating overseas business in Malaysia, the USA, Thailand, China, Indonesia, and Vietnam, based on the business success in Korea. For more information, please visit
http://www.coway.com/